Operational Requirements
Vehicle Weight Regulations
Agricultural vehicles are subject to the vehicle weight laws listed in Chapter 5: Size & Weight Regulations.
Oversize Vehicles
Motor vehicles owned by farmers used to transport their own farm commodities or implements are exempt from width and height limitations on State Highways. However, all oversize movements on the Interstate highway system require oversize vehicle permits.
Movement of Overwidth Vehicles at Night
No person may operate upon any State or Interstate highway any farm machinery or implement exceeding 102 inches (8'6") wide between one-half hour after sunset and one-half hour before sunrise. However, over-dimension farm implements may be moved on all other (county and township) roads at night, if they have flashing or rotating white or amber warning lights placed at each side of the equipment's widest extremity. The lights must be clearly visible to motorists approaching from the front and rear.
Hazardous Materials
All operators, including farmers, are subject to the requirements for transporting hazardous materials, explained in the section entitled Hazardous Material Transportation.
Slow Moving Vehicles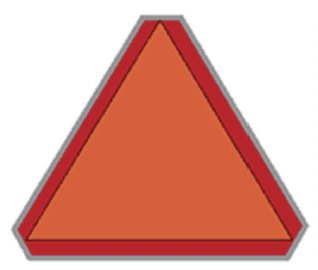 All farm machinery, including animal-drawn vehicles, designed for travel at speeds of 25 mph or less on a public highway must display a slow-moving vehicle emblem. The emblem must be in good condition and be mounted in a clearly visible location on the rear of the vehicle. Slow-moving vehicles traveling on a public road must be driven as close to the right-hand edge or curb of the road as possible, except when overtaking and passing another vehicle.
Any vehicle requiring the slow-moving vehicle sign is prohibited from operating on public roads between one-half hour after sunset and one-half hour before sunrise unless it has a flashing or rotating warning light clearly visible to vehicles approaching from the rear.
Safety Chain Requirements
Every trailer towed on a public highway at a speed more than 20 mph must be coupled to the towing vehicle by a safety chain, chains, cables, or equivalent device of sufficient strength and with enough slack to allow the vehicle to complete proper turning. Safety chains must be connected to the towing vehicle and to the drawbar of the towed vehicle to prevent the drawbar from dropping to the ground in the event of a failure.
Number of Farm Vehicles in Tow
A farm tractor or other farm power unit may draw up to two other vehicles or implements of husbandry upon the public highways, if the vehicle is being used exclusively for agricultural purposes related to the operation and maintenance of the farmer's own farm.
Lighting Requirements
Farm vehicles being drawn at the end of a train of vehicles may be equipped with two (2) four-inch reflectors in lieu of lighted lamps. The reflectors must be visible 500 feet to the rear.
Anhydrous Ammonia Trailers
The maximum overall length for a combination of a towing vehicle (including farm tractors) and two anhydrous ammonia fertilizer tank trailers is 70 feet.

This combination may travel on public highways only during daylight hours and may not exceed 25 miles per hour. Each trailer must display a slow-moving vehicle sign. The towing vehicle must have a GVWR of at least 11,000 pounds.