Chapter 9: Electronic Screening
Chapter 9: Electronic Screening
South Dakota's E-Screening Program
South Dakota operates Electronic Screening facilities at four Interstate Ports of Entry and two non-Interstate weigh stations. EScreening allows participating motor carriers to have their vehicles weighed and safety rating and credentials verified as they approach the port of entry. If all is in order, trucks can usually proceed without stopping. E-Screening keeps safe and compliant trucks on the road, reduces travel time, and improves overall highway safety.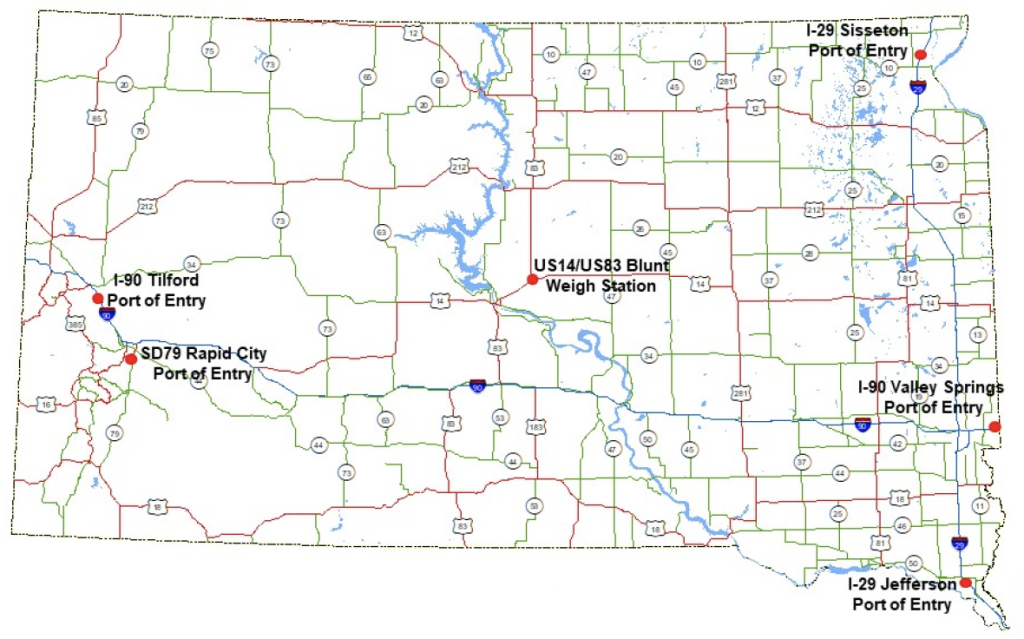 How Does E-Screening Work?
Motor carriers who register their vehicles to participate in EScreening receive an electronic transponder to mount on the inside windshield of their truck. As the truck approaches the port of entry, the system identifies it by reading the transponder or the truck's license plate, weighs the truck on an in-pavement scale, and checks whether the vehicle is overheight. At some locations, in-pavement sensors check for uninflated and underinflated tires. As the truck approaches the weigh station, the system checks that the motor carrier's credentials and safety rating are satisfactory. If everything is OK, the transponder (if the truck is equipped) and roadside message signs instruct the driver to bypass the weigh station.
If a problem is detected, the transponder and roadside message signs direct the driver to pull into the weigh station.
The ramps into some weigh stations include low-speed systems to detect faulty brakes. Thermal imaging cameras on each side of the truck detect whether the brakes are cold (not operating), warm (operating properly), or too hot (possibly locked). Potentially faulty brakes can be inspected by weigh station staff.
South Dakota E-Screening Criteria
Commercial vehicles will be directed into the weigh station for:
an Out of Service Order or revocation
invalid registration
a suspended IRP or IFTA account
unsatisfactory Inspection Selection System (ISS) score
gross weight exceeding 80,000 pounds without an "Over 80" permit
gross weight exceeding the vehicle's registered GVW by more than 5%
weight exceeding the legal weight for the vehicle's axle configuration
flat or underinflated tires
South Dakota also randomly stops a percentage of all vehicles for screening.
Benefits to Motor Carriers
E-Screening saves motor carriers:
Time – The fewer stops at weight stations, the sooner the truck can reach its destination
Fuel – Less stops and starts means less fuel used
Vehicle Wear – Vehicles experience less braking, startup, and wear
Driver Satisfaction – Drivers experience less frustration from repeated stops
Money – All of these translate into dollars saved
Data Privacy
South Dakota respects carriers' concerns about data privacy. The E-Screening program is intended to improve efficiency and safety of motor carrier operations. It is not a data collection program. South Dakota's E-Screening program will not:
give date, time, or weight information to any other jurisdiction unless there is a specific request from law enforcement for an active investigation, as required under current IRP/IFTA agreements
disclose any data to competitors, sales representatives, or other marketing companies
use data to enforce speed limits
provide data to anyone except carriers for their own vehicles, and only upon authorized request
permanently retain individual vehicle or carrier data for any purpose
change privacy rules without notifying all participating carriers and associations in advance, so they can decide whether to continue in the program
E-Screening Enrollment
Any carrier can enroll in South Dakota's E-Screening program who has:
an active USDOT number
a current and valid registration to operate in South Dakota
To enroll or purchase a transponder or to report problems, contact the South Dakota Department of Revenue Motor Vehicle Division at (605) 773-3314.
NORPASS E-Screening Program

South Dakota is a member of the North American Preclearance and Safety System (NORPASS).
NORPASS encourages mainline screening to allow safe and legal commercial vehicles to bypass weight stations and enforcement to concentrate on high-risk carriers.
In addition to South Dakota, NORPASS operates in British Columbia, Connecticut, Idaho, New York, Oregon, and Washington.
NORPASS provides access to other electronic screening programs in North America. Through interoperability with PrePass™, carriers can use E-Screening in 40 states and provinces.
NORPASS costs less for carriers. The only cost is the charge for the transponder. There are no monthly or annual fees.
NORPASS is governed by the Board of Directors from both the trucking industry and states.
NORPASS is not a data collection system.
NORPASS lets each state administer its own program, according to local needs.
No fees are charged by South Dakota or any other NORPASS state or province for participating in NORPASS. However, trucks must have a transponder that works in the system. Transponders cost $45 and last 3 to 5 years. Motor carriers—not the state or NORPASS—own the transponders.
For more information about NORPASS, please contact NORPASS, Inc., Anne@NORPASS.org, (360) 339-2071.
PrePass™

Because NORPASS and PrePass™ use the same type of transponder, motor carriers can participate in both programs at the same time. Carriers can register a PrePass transponder in NORPASS jurisdiction, including South Dakota, if they first contact Prepass™ and complete a Data Privacy Waiver Form. Carriers can move a transponder from one truck to another if they first notify NORPASS and PrePass™.
Enrolling a single transponder in NORPASS and PrePass™ is better than running with two transponders, because identification errors are possible with more than one transponder in the truck.
For more information on PrePass™, contact https://prepass.com, (800) PRE-PASS.
Drivewyze™

South Dakota has authorized the Drivewyze™ PreClear bypass program to operate at fixed Ports of Entry and weigh stations and at 61 mobile sites throughout the state. Commercial fleets and owner-operators who register with PreClear are eligible to bypass these sites using South Dakota's normal e-screening criteria. PreClear is not transponder-based but runs instead as a GPS-based application on smartphones, tablets, and certain in-cab devices. Contact https://drivewyze.com for further information.